Less/more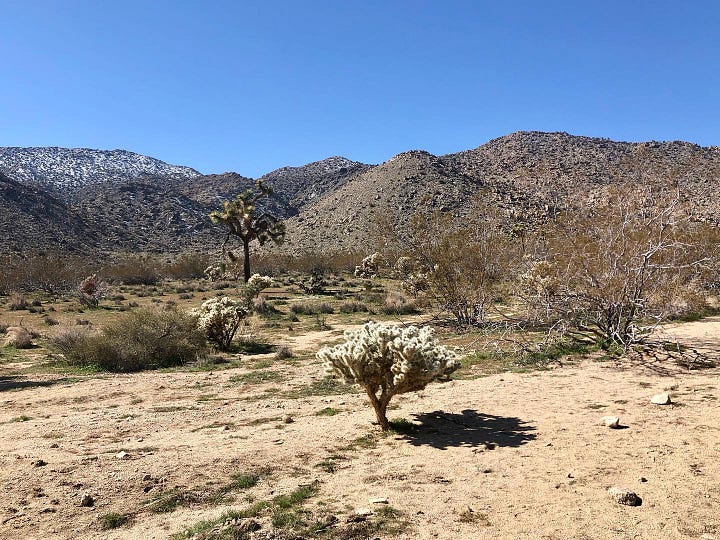 We went to Joshua Tree and I lost my voice. After three years, I finally got sick…with something, not Covid (or detectable by multiple such tests), or anything that fully incapacitated me, but something that still made me cough and lose my voice and generally slow down further than I liked, even for a vacation week.
Still. Still, beauty, stillness, a different view. I guess this is maturing, I thought, being mostly OK with less going on and getting done. Besides the weather was doing a lot of doing if I wasn't. We managed to dodge the worst of last week's storms, with only one day being mostly too wet and messy to get outside for long. The next day, we marveled at the snow on the trails and the views from the park of the whitened San Bernadino Mountains to the west, not realizing that the record-snowfall had left a bunch of people stranded there.
Weather records, they seem to fall every week these days. Last I checked another atmospheric river is headed our way….
Subtexts of most of our trips are where we might live next (an as-yet-unanswered question) and how you actually don't need that much stuff. Climate change and changes are part of what stymies us about the former. Consuming less though is very doable, though you wouldn't know it from the looks of the roadside sprawl and mini and mega-malls we zipped past on the way home.
We took a more direct route home this go, through Bakersfield, and I realized we'd be going right past two, relatively-postage-stamp-sized National Wildlife Refuges, Kern and Pixley. Both preserve remnants of the freshwater wetlands and grasslands that once coverd the valley and are excellent places to see a diversity of birds and we were not disappointed. Thousands of waterfowl, shorebirds, cranes, and more dabbled and dove and perched. Given the abundance on view, it was hard to fathom that these refuges were fragments of what once was. In this case, less was still a lot…but it would be a whole lot better with more.
1
The Case for Wetlands in the Central Valley, Audubon https://ca.audubon.org/news/case-wetlands-central-valley