Becoming who you are
Forward, back and right now
At one point during the excellent documentary "Hallelujah: Leonard Cohen, A Journey, A Song," Cohen says that his goal is to become an elder. Much of the joy of watching the movie is seeing him become just that. But I also appreciate the goal in and of itself, as its about becoming, and being, as much as doing.
As I land on another birthday (and marvel at how quickly years advance!), I've been reflecting both on how my goals in life have shifted over the years and the satisfaction — and relief — that comes from just being oneself. For a while now, my goal hasn't necessarily been to become an elder (though I like that idea), but to be as free-spirited and authentic as I was when I was in elementary school. Back then I was making art and writing songs and stories and playing sports and watching birds and … pretty happy.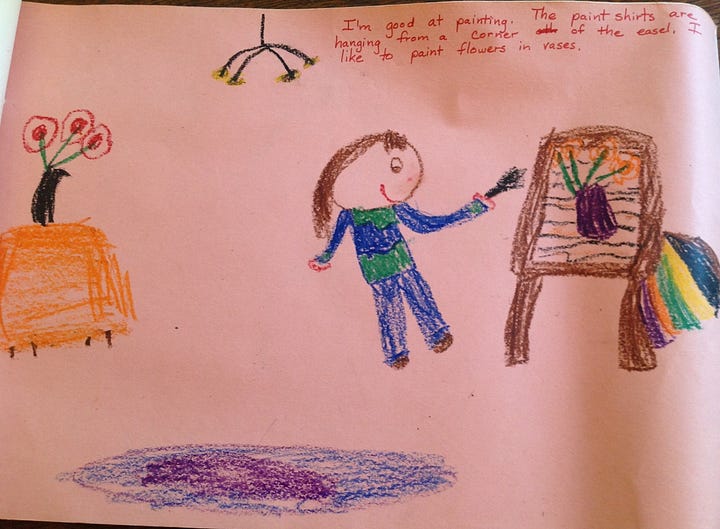 For a variety of reasons, I lost and found and lost that plot many times over during the subsequent years, before finally getting clear that that was my plot. The trick, as always, is not forgetting what I always knew. Fortunately, for the past few weeks, I've been in the thick of it, getting ready for a show that feels on its way to being a summation of all my interests. I feel at once vulnerable …and that my inner eight-year-old would approve.
---
Mario DeSio's guitar night a few weeks back was likewise a blast from the past and a check-in with the present. The 'old gang' from the Bazaar Cafe — Ira Marlowe, Jeff Pehrson, Mokai, Kwame, myself and a slew of other Bay Area songwriters — gathering to swap songs again, this time playing our custom DeSio guitars at The Monkey House in Berkeley.
Back in the day, circa 2003-4, we'd all gather at the Richmond District cafe to debut our latest songs at the Thursday open mic. Jeff had already had national success with his duo; Mario, Ira, Kwame and David had been on the scene playing in a variety of local bands more than 10 years before I happened through. That crew would be at the back table, waiting for someone to play something notable. Everyone wanted to impress everyone else, or get into good graces with the owner, Les, who booked the acts he liked on weekends (or, if all else failed, date the newest barista). Les would walk to the edge of the counter with folded arms if someone caught his ear. Otherwise, he'd be standing with his head down at the cash register. Similarly, if no one at the back table was talking after your first verse, chances were you had something. I can still remember how good I felt when Ira commented favorably on one of my songs!
Nearly 20 years and a pandemic later, we were all similar but different, a little softer in heart and body, and grayer, though still wanting to impress one another. Mostly, we were all amazed at the variety of beautiful guitars Mario had made for us.
Mario's body of work has really grown since he started building instruments in the mid-aughts, the guitars becoming that much more beautiful while reflecting their owners so well. What a stable of work, between Teja's baritone; Kwame's semi-baritone; my little Brazilian Rosewood parlor guitar; Mokai's wacky 7-string guitar; Maggie's piano-top; Joe's with its zebra-wood, and Andrew's pretty parlor with the ivory inlays. The songs were just as great as the guitars. This time, no one talked through anyone's performance. I think we were all slightly in awe that we were still making songs despite the vaguries of life and the large amounts of water that has run und the bridge, that we were still who we were all those years back, but that much more ourselves.